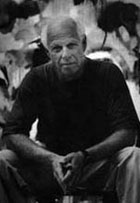 Michael Mazur reflects on Artists' Studios
"The Provincetown Studio Show," at the Provincetown Art Association and Museum, the Pilgrim Monument and Provincetown Museum, and the Fine Arts Work Center, August 2008
Note to all artists: if you have a photograph of your studio and would like to share it with us, please e-mail to ewa@iamprovincetown.com
The Provincetown Studio Show: Introduction GHOSTS

Studios are full of ghosts — ghosts of artists long gone, but not forgotten by relatives who hold on to their workspaces as memorials. When I visit them, I'm disconcerted by the sweet sorrow of their emptiness, their cleanliness and order. Yet the artist's presence, nearly palpable, persists in the silent air.
The studio is the laboratory, the workshop, the sanctuary and temple, the home and the retreat. It is the spiritual and physical core of the artist's life. In 1964, Canadian pianist Glenn Gould gave up the concert stage and withdrew into his recording studio, where he invented a new way to present his interpretive performances. He described his recording studio as "womblike," as a place "where time turns in upon itself," where he could create art "with its own laws and its own liberties."
Years ago, when my wife, Gail, and I first came to Provincetown and stayed at the Fritz Bultman cottage on Miller Hill Road, I wandered up the hill to look at the old barn that had been, I was told, the studio of Charles Hawthorne, founder of the Cape Cod School of Art. I had heard that Hans Hofmann had taught there as well, and was curious to see what the interior looked like. I introduced myself to the owner, artist Olga Opsahl-Gee, who let me in. It looked untouched and unused for what I took to be many years. I later found out that the Gees -- pop artist Peter Gee and Olga -- didn't like to work in the barn; they said it was filled with ghosts.
It was a beautiful space, built in the early 1900s almost certainly by Frank Days and his sons. Frank Days owned Days Lumberyard on Pearl Street and built studio apartments nearby at 4 Brewster St. -- both served as housing and studio space early on for Provincetown's art colony. The Days may have built the Hawthorne studio building inspired by the Puritan Shirt factory building on Court street, which was very similar in construction to Hawthorne's barn; it too provided studio space to Ross Moffett and Oliver Chafee sometime after 1900 when the business closed.
The converted shirt factory rooms were as large and spacious as any in town, at that time or since. William Halsall, a British sailor and marine artist, who painted from 1890 to 1919, had a studio there large enough for his 30-foot painting The Steamer OREGON Rounding Cape Horn in 1898. The building, on Court Street, was destroyed or torn down long ago. I went looking for where it might have been, to no avail. It is unlikely Provincetown would have become the magnet for artists that it did without the Days. If Hawthorne, with his school, attracted artists, Days and his sons housed them.
Inside the Miller Hill barn were some chairs, an old platform that I took to be a model's stand, and worktables; other than these, it was empty. I walked around, trying to imagine how it might have been to be a Hawthorne student there in the twenties, or Hofmann's student when he taught there.
The floor was caked with dust, and with each step, motes rose into the air, glinting in sunbeams from the large skylights. I thought of Mrs. Haversham's rooms in the haunting film of Great Expectations. Ghosts, shadows of generations, or shades, as Dante's dead are called — I tried to summon them. I couldn't, of course. I suppose I had wanted to discover an earlier Provincetown, erase its newer features, and experience the splendid reality of its years as America's premier art colony — all impossible.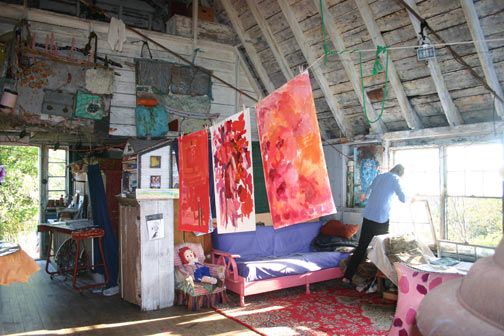 Miller Hill barn, color workshop with Peter Gee, Summer 2005
As I poked around I noticed a sign about 4 feet long sticking out between a table and the wall. I pulled it out and realized that at least one other artist must have taught there as well. MORRIS DAVIDSON SCHOOL OF ART was painted in fairly crisp blue letters on a now-yellowed, white background. Morris Davidson, the same Morris Davidson I had studied with as a teen-ager, on West 57th Street in New York, a few doors up from the Art Students League.
I was meeting up with a real ghost from my own past that I could imagine: a dozen or so middle-aged women (probably much younger, but to a teen-ager?) at their easels, and me at mine, a still life of jugs and fruit before us, and a background of colored papers pasted into a pattern. I remembered Morris, though without a picture, it was hard to place him as the ghost in that room — much easier, the ubiquitous Hofmann.
But suddenly the space meant something personal, resonant. The experience was fleeting, and I'm afraid the building will not last much longer either. It will come down, due to rot or "development," just as its cognate, the shirt factory, did. But it introduced me to Provincetown in an unexpected way.
Down Bradford Street, a short way from the Bultman cottage is the Fine Arts Work Center. For at least 50 years, it was Day's Lumberyard and then a plumbing-supply warehouse, before eventually being acquired for the Work Center in 1972. It was built in 1914 at the start of World War I, which brought many American artists back from their studies in Europe. At that time Days rented out studios for $50 a year.
Early in his career, Edwin Dickinson worked at Days. The rooms were unheated then, so he insulated with old canvases nailed to the walls and floors, and painted there through the winter. Sometime later he installed a coal stove. Eventually he moved up the road to 46 Pearl St., where he shared a building for a while with Hawthorne, before Henry Hensche moved in. A drawing of Dickinson's studio at 46 Pearl St. from 1920 shows a similar stove, with his chair angled toward it in almost the same position as in a photograph of Dickinson at Days taken earlier that year.
Hawthorne had worked at Days as well, painting The Crew of the Philomena Manta there in 1915–1916; it's now in Town Hall. William Zorach made his first sculpture there. And Hofmann worked, and perhaps taught, at various times in several studios there. So many artists worked there — many of the most important who were working in Provincetown in those years.
It must be remembered that while Hawthorne and Dickinson, as well as Ross Moffett and Karl Knaths — "the Lions" of Provincetown in the years between the wars — are less known today, they had major reputations in the 1930s. Their visibility went far beyond the confines of the Cape. Their work was collected by the major institutions that conferred prestige on an artist — the Metropolitan Museum, the Museum of Modern Art, and the Art Institute of Chicago — and was shown in exhibitions such as the Carnegie International, then the most important international exhibition in the United States. Moffett served on its jury in 1934 with Henri Matisse and other major artists from Europe and England.
Moffett came to Provincetown in 1915 from New York, where he had moved after his years at the Art Institute of Chicago. He painted in the shirt factory building and at Days. He eventually built his own studio when he and his wife, illustrator Dorothy Lake Gregory, bought a house on the west end of town. Some of Moffett's paintings depict the dunes, or the Province Lands as they were called, as seen from the back windows of his studio. Moffett's veneration of this landscape — in almost all his depictions of Provincetown and the farms of North Truro, the structure of the dunes recurs as the basic topography — led to his prominent role in preserving the dunes and helping to establish the National Seashore designation. He also had a keen interest in the archeological record of Native American life on the Lower Cape and created collections of artifacts from sites he discovered.
Knaths built a house and later a studio at 8 Commercial Street. Both stand today; the house is expanded, but the studio is virtually intact, with its high northern windows and sleeping loft — the very model of an artist's studio from the mid–twentieth century. Dickinson moved to Wellfleet, where he painted so many of his quick, diaphanous, landscape studies.
Blanche Lazzell, like Moffett and Dickinson, first came to Provincetown to study with Hawthorne. She went to Europe in the twenties to study with Albert Gleizes and others, and was heavily influenced by European art, especially the excitement of the Paris schools. When she returned to Provincetown, she rented a building at 351A Commercial St. on a short wharf near the town beach. Lazzell was a small woman, inconspicuous among a vociferous group of men, but she had an enormous influence on the one medium that became identified with the colony: the white-line woodcut, known also as the Provincetown Print. Lazzell had learned "white-line" from B.J.O. Nordfeldt, who worked for a time in Provincetown, then moved to the Southwest.
It was Lazzell's influence on other artists in town that created what might be called a cottage industry in white-line woodcuts. Edna Boise Hopkins, who had studied the principles of Japanese color woodcut with Arthur Wesley Dow, lived in Provincetown in those years and helped Lazzell and others develop their process. Oliver Chafee and Ada Gilmore Chafee, and Agnes Weinrich contributed a significant body of work.
Each was also a painter, but the development of a Provincetown print tradition, which also included the work of Tod Lindenmuth, Marguerite and William Zorach, and Nordfeldt, continued through the early part of the century with artists Ethel Mars, Maude Squire, Margaret Patterson, and others, producing strong, white-line prints. Later, Ferol Warthen, Mervin Jules, and Seong Moy carried on the printmaking tradition, and it is alive today in the print programs of the Fine Arts Work Center.
Lazzell's studio on the bay was demolished in 2002. It had never been registered as a historic building and had been abandoned for several years. Yet her woodcuts of the small studio/house complex and photographs of her with artist friends on the deck, the façade covered with morning glories and hollyhocks, remind us of that rich period in the life of art in the town.
Many other artists rented places in Provincetown over the years — Charles Demuth, Marsden Hartley, Mark Rothko — or visited, like Willem de Kooning and Jackson Pollock. We have lost track of where they stayed, but we know many of the works they did here.
While we summered at the Bultmans', I worked at the Fine Arts Work Center in what were called "the bins" because they were used for storing wood and coal at Day's Lumberyard. The bins were across from a large "trap shed" — for lobster traps — and its second story of studios and apartments, connected by a balcony. Artists must have met often on that balcony and stayed to talk, or shouted down to the courtyard below. Ghosts.
The bins were unheated, shed-like rooms with barn doors and dirt floors. Windows at one end provided light, or you left the doors open for the southern exposure, often as even as north light. If you shared a space, a sheet was sufficient to divide the open space. Every once in a while a baby bird would fall from its nest in the rafters.
It worked well for a temporary studio back then. And later, before they were rebuilt, Fellows at the Work Center used them in much the same state. The winters were hard, but the passage to modernity was eased by electric heaters. In 1986, the studios were remodeled, with gas heat. Now, every winter, each new painter or sculptor, video or installation artist, remakes the space into their own, from what begins as a white, impersonal room. Any birds would have to be brought in, and sometimes are.
A "barn" on the Day's property was also used by many artists before it became part of the Work Center. For a while Peter Busa painted and held classes there. Robert Motherwell and Helen Frankenthaler also worked there. Motherwell was so fond of the light and space in it that he modeled his studio on Commercial Street on it, calling it "Sea Barn."
Either one or two summers, I forget which, I had a studio at 4 Brewster Street, with the kindly Eulers as landlords. For the summers of 1961 and 1962, Helen Frankenthaler (to whom I was married then) and I rented the main barn at Day's Lumberyard. In those years the huge floors were undivided, and perfectly suited for the enormous formats of the paintings we both were accustomed to. The barn was beautiful to behold then, shingled, with arched barn doors on each floor, which I incorporated on the street side of my present studio/house at 631 Commercial street; windows on all sides, with radiant summer light of Provincetown that rivals the Greek Islands.
The two summers we spent in the Bultman cottage, in 1986 and '87, a year or two after Fritz had died, were crucial in our decision to move here. The houses Fritz and Jeanne Bultman built in the early forties were beautiful, filled with his paintings and collages, and Polynesian carvings and ceremonial paddles.
The studio Fritz built with sculptor Tony Smith was remarkable. Smith had been working for Frank Lloyd Wright at Taliesin West and applied some of Wright's ideas to the studio. It hugs the ground near the entrance to the property, flaring back and upward to a high skylight, which angles down the façade to the road's margin. The low end at the entrance is canted at the same angle as the rear, but in toward the studio.
A wall divides the space into two areas. The front section was used — and still is, I suspect — for drawing or paper work. A larger space at the rear was for painting. High shelves provided storage along the divider wall. The building is trapezoidal in shape from the side view; It is a Tony Smith sculpture not unlike some of his monumental, black painted constructions, but this one's for working in: a sculpture housing a painter.
Those early years were an introduction for us to Provincetown and especially to the unique community of artists still working here. The decor at the Bultmans' was anything but "summer generic." One had the sense that everything on the wall or the floor had been considered. This is generally true for artists' homes, even more so for studios. Fritz had a wonderful eye; he and Jeanne lived in a style that was their own, a uniquely visual style.
Before and during World War II, artists of the Abstract Expressionist movement and of other non-Regionalist tendencies moved to Provincetown and worked at Day's until they could buy houses and build studios. Hofmann was the key figure in those years, attracting as many students in the summers as had Hawthorne decades earlier.
Peter Busa, Chaim Gross, Nanno De Groot, Herman Maril, Ilya and Resia Schor, Myron Stout, Leo Manso, Richard Florsheim, Jack Tworkov, and Fritz Bultman, Franz Kline, Mark Rothko --who bought a home and then sold it to Tony Vevers--, who owned or found spaces in Provincetown in the forties and fifties. They, in turn, attracted Adolph Gottlieb, George McNeil, Robert De Niro, Jan Muller, and many artists still among us — Lester Johnson, Alex Katz, Mary Frank, and Red Grooms, and another Hofmann student, Paul Resika. It can be said that Provincetown in those years was the single most important meeting and painting place in America. Varujan Boghosian also came and James Lechay, Gilbert Franklin, and much later Dimitri Hadzi. Many were summer residents up from New York or elsewhere, who either bought second homes or rented.
Each artist left a legacy of work depicting either the town or its people, or its light and spirit, in paintings, prints, and sculptures that are now in collections around the country and the world.
Many studios and homes of these artists still exist. Herman Maril's, like some of the others, is still in the family. It extends out, cantilevered, over a small garden behind the house. His widow, Esta, and son, David, have kept it as it was — easel and palette, most everything, still in place, but less crowded. A black rotary phone still hangs on the wall, where it was in one of Maril's paintings. His whimsical painting of his dog hangs on the wall downstairs where you enter.
Nanno De Groot's painting space in the house he and his wife, Pat De Groot, built on Commercial Street, near St. Mary of the Harbor church, is still used by Pat to paint her luminous seascapes.
The most astounding studio is one on Nickerson Street that was used by, and probably built by, seascape painter Frederick Waugh. Hans Hofmann bought it in 1945. Life magazine featured it in an article on Hofmann and his school. It is still as he left it — without the attributes of his studio, but with its wood paneling and north windows, and an interior balcony from which students watched his demonstrations. More ghosts!
Also on Nickerson Street is the former home of Mary Hackett, whose quirky, savvy paintings of evocative domestic subjects, simple and yet so magical, were painted not in a separate studio, but anywhere in the house that suited her. Her painting Hans Hofmann Taking out His Trash is a minor masterpiece. Would that I could have looked through that trash!
Tworkov's house/studio, though renovated, still stands as do Chaim Gross's near Franklin Street and Karl Knaths's on lower Commercial Street, near the turn. It is used now by artist Martha Davis.
The Cape Cod School of Art at 46 Pearl has been respectfully restored. But other studios, like Blanche Lazzell's, which have been destroyed, or the deteriorating old barn on Hawthorne's hilltop above Miller Hill Road require other means of identification to serve as reminders.
So many artists built houses and studios in Provincetown that it would be impossible to name them all or to include them all in one exhibition. Walking around town, you might see traditional "Capes," with their unusually large windows on the side or angling down a hip roof. Or it could be a converted garage or outbuilding with that feature, or an ungainly addition. In a home you are visiting, you might come across a strange arrangement of rooms, unusual balconies, or stairways to rooms now used for other purposes. These were once the workspaces of Provincetown artists, who built the legacy of the town with their creativity and passion.
We hope this show will inspire the marking of the remaining studios and others now gone with plaques to inform those who stroll through the town of its importance as America's principal art colony for much of the twentieth century. As artists we know the value of these past masters to our own heritage. The roads and paths they wandered down, sand or wood or blacktop, are the same ones we wander on, and their aesthetic journeys are pathways for us and future generations. Let's remember them!
The story used with the permission by the artist.
Boston Globe article... click here